We are a Partner with Gillware Data Recovery..!
Oh no......!!!!!!!! You may have experienced this feeling in the pit of your stomach before, when you may have thought that you lost very important or precious data from a failed hard drive, SD card, flash drive, SSD, RAID, DAS/SAN or phone. That is why we are a partner with Gillware Data Recovery...!
Gillware is a leader in data recovery.
REFERRAL CODE:
Our Partner number is: 55785
You can learn more about them at: https://gillware.com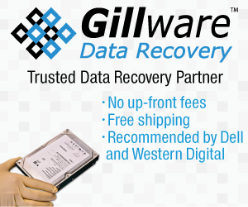 "Why Gillware Data Recovery?
Free inbound shipping, free evaluation, no charge for recovery attempt

No data, no charge policy: You only pay if the recovery is successful

Recommended by major hard drive manufacturers

Better Business Bureau accredited for over 10 years, A+ Rating

SOC 2 Type II security audited facilities and business practices."
from the Gillware Data Recovery Your Data Recovery Experts rack card
Gillware Data Recovery
1802 Wright Street
Madison, WI 53704
877-624-7206